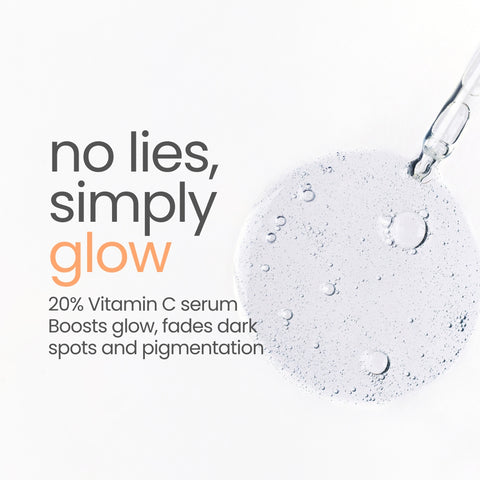 Age Defying Trio
Anti-aging serum kit ★★★★★ (269)
A super effective serum trio to achieve a youthful and fresh look at any age. These serums provide the necessary nutrients to address signs of aging, resulting in a visibly smoother, brighter, and more youthful complexion.
Kit Includes:
20% Vitamin C Brightening serum 30ml
5% Hyaluronic acid Replenishing serum 30ml
2.5% Retinol Anti wrinkle serum 30ml 

How to Use
AM
Cleanse your skin. Apply Vitamin C serum immediately after washing your face. Once you've given a moment or two to absorb serum into the skin, layer on with Hyaluronic Acid serum. After both serums have fully absorbed into your skin, always follow up with a broad-spectrum SPF of 30 or higher before you begin your makeup routine.

PM
Cleanse your skin. Apply Retinol serum and gently tap until absorbed. Once you've given a moment or two to absorb serum into the skin, layer on with Hyaluronic Acid serum. If the Repair serum causes initial dryness, use it only 2-3 days a week and build-up on to daily use so skin adjusts. Always follow up during days with a broad-spectrum SPF of 30 or higher before you begin your makeup routine while using this product including several days after discontinuing use

Where it sits in your routine?
Step 1: Cleanse
Step 2: Tone
Step 3: Treat ——> Here!
Step 4: Moisturise
Step 5: SPF
Ingredients
See full ingredient list on individual product pages
Patch Testing: When adding new products to your skincare routine, we always recommend patch testing. For serums and creams, apply a small amount of the product on dry cleansed skin behind the ear or on your inner arm. Wait at least 24 hours to see if any irritation occurs. If you notice any irritation such as redness, itchiness or burning, rinse off and discontinue use. Introduce new products slowly, and one at a time, so that you can easily identify any sources of irritation.
*Thanks to our constant commitment to innovation and the availability of raw materials due to the current situation, slight modifications may occur in the percentages and/or nomenclature of ingredients and as a consequence, INCIs may vary according to the manufacturing batch. However, the quality, effectiveness and performance of the product are reviewed at each manufacture, as part of our commitment to high quality cosmetics. The most recent and updated version of the ingredient list will always be on the product packaging.
FAQ's
Q: Can I use all three serums together in my routine?
A: Yes, absolutely! Each serum serves a specific purpose and can be layered in your skincare routine. Start with the Vitamin C Serum, then the Retinol Serum, and finish with the Hyaluronic Acid Serum.

Q: How often should I use these serums?
A: For the best results, use each serum once a day. Vitamin C Serum can be used in the morning, Retinol Serum at night, and Hyaluronic Acid Serum can be used in both AM and PM routines.

Q: What are the benefits of the Vitamin C Serum?
A: Vitamin C Serum is a potent antioxidant that helps brighten skin, reduce hyperpigmentation, and boost collagen production for a more youthful complexion.

Q: How does the Retinol Serum work?
A: The Retinol Serum promotes skin cell turnover, reduces the appearance of wrinkles and fine lines, and helps improve overall skin texture and tone.

Q: What does the Hyaluronic Acid Serum do?
A: Hyaluronic Acid Serum hydrates and plumps the skin, reducing the appearance of fine lines and wrinkles, while providing a smoother and more youthful complexion.

Q: Can I use these serums if I have sensitive skin?
A: Yes! But while the serums are generally well-tolerated, individual sensitivities may vary. We recommend patch testing before full-face application, especially if you have sensitive skin.

Q: Can I use these serums if I'm pregnant or breastfeeding?
A: Avoid Retinol Serum

Q: Are these serums suitable for all skin types?
A: Yes, the serums are formulated to be suitable for all skin types, but if you have specific skin concerns, it's always a good idea to do a patch test first.

Q: How long will it take to see results?
A: Results may vary, but you may start to notice improvements in your skin's texture, tone, and overall appearance within a few weeks of consistent use.

Q: Can I layer these serums with other skincare products?
A: Yes, you can layer these serums with other skincare products, but it's important to pay attention to how your skin reacts. Avoid overloading your routine with too many active ingredients at once.

Q: Is this kit vegan and cruelty-free?
A: Yes, this kit is vegan friendly and cruelty-free






Delivery & Returns
Shipping Charges:
We offer FREE Shipping on all New Zealand Orders. FREE Shipping on AU orders above $50. AU Standard Shipping is AUD 7.99. FREE Shipping Worldwide on orders above $50
Processing & Delivery Time:
All orders take 24-48 hours to process (Monday – Friday), and between 1-3 working days to deliver in NZ .
Standard AU Shipping orders will take 3-8 days to deliver once shipped. All standard shipments are with NZ Post, and all come with tracking. All orders will be shipped from our warehouse within 2 business days.
Worldwide shipping timeframes varies and an estimated time can be calculated during checkout.

Returns & Refunds:
If for any reason you are not completely satisfied we are happy to offer a refund, exchange or replacement on all goods returned to us within sixty business days of your receipt of goods. To return, please email: contactus@palsskinlab.com 
Enjoy free shipping and returns60 Day happiness guarantee! Try it risk free!Shop now & pay later using afterpay laybuy or zip
Why You'll Love It!
Revitalize your skin with our most loved serum trio. Discover the ultimate synergy of these serums and unveil your most radiant, youthful complexion.

Age Defying Trio Kit includes three high performance skin serums:

1. Hyaluronic acid serum 30ml to rejuvenate & hydrate dry dull skin thereby improving the texture of your skin making it smoother and more hydrated all day long.

2. Vitamin C serum 30ml to fade age spots & boost skin's natural radiance. Additionally, it targets skin damaged by acne scars and hyper-pigmentation, resulting in clearer, smoother, and glowing skin.

3. Retinol Serum 30ml to minimizes fine lines, pores & wrinkles and accelerate youthful skin functions.

Will buy again
I am really enjoying the vitamin C and Retinol on my skin, its looking healthier than before and my complexion is steadily improving, will be purchasing more when I run out. I only need to use a small amount so think a little goes a long way.
So soft
My skin is so so soft in the mornings after i've used this product. It feels like the moisturiser I put on over the top, has stayed just as moist and glowy as when i had put it on the night before because the hyaluronic acid is doing its job. I can't comment on the anti-ageing effects just yet as it's only been a couple of months but my skin is much more hydrated.
Anti-aging Bundle
The 3 serums are goooood! My skin is more brighter. Haven't been consistent with the collagen + factors. But overall highly recommend 💛
Best products
My skin is glowing, can feel the difference. Best products I've ever used. Thank you Pal😊
Love the trio!
I love these products-my skin is looking brighter. I have found them super handy as I travel loads and they are also the perfect size!
Good Product
I suppose looking in the mirror everyday doesn't really enable one to see the difference in skin tone, dryness or wrinkles. My friend turned to me the other day and said your skin is looking so amazing, it's not dry and you look great. I can only put that down to the Age Defying Trio that I have been using. They look good and are easy to use.
Age defying trio
I have found this to be excellent my skin is brighter firmer and smooth
Age Defying trio
I have been using it for a Month. My skin has not looked this good on years
AMAZING!
I absolutely loved this skincare set. It has completely changed and cleared up my skin. My winkle and smile lines have dissolved, and I have a smooth glow about my skin. The serums are lightweight, and they feel great. Couldn't recommend enough.
Glow booster
Keeps my skin hydrated.. my skin is smoother and doesn't feel dry anymore. I also use the Retinol and BHA which seems to help with my acne skin too.